As a service to our customers, we believe it is important to inform them of different types of commercial roofing systems. Here is what you might want to know about single-ply roofing systems. Single-ply roofing is a superior solution for low-slope roofs due to its wide-width sheeting design that minimizes seams and negates the need for the extensive seam work found in asphaltic rolled roof systems. The principal types of single-ply membranes are PVC and TPO. These robust, vinyl-like materials are presented in large sheets, offering enhanced durability and versatility compared to traditional roofing methods. Our single-ply roofing guide will focus on PVC and TPO systems and list the benefits and drawbacks of single-ply roofs over other systems. 
Types of Single Ply Roofing Systems
Some roof systems utilize multiple layers of materials to create a watertight layer. Examples of these built-up roofing systems include those made with alternate layers of felt and asphalt and the modified bitumen system that replaces the hot asphalt with synthetic rubberized polymers.
However, as the name implies, single-ply roofing systems are made of one layer (or "ply"). The two main types are PVC and TPO single-ply membranes, both of which are used on low-slope roofs. These vinyl-like materials come in large rolls of varying strengths and widths. 
PVC Single Ply Roofing System
PVC stands for polyvinyl chloride, a robust, stable, and strong vinyl material. This roofing material has been used in the commercial roofing industry since the 1960s. 
PVC installation is relatively straightforward. Once the roof deck is prepared, the roofers will lay the material, heat weld the seams, and attach the flashing. The heat-welded seams allow the roofing system to expand and contract with the building. 
It's worth noting that new roof surfaces need to be cleaned where the roof is to be installed. However, when completing a roof replacement, the existing roof will have to be torn down, which adds to the cost and timeline of the PVC roof installation process.
TPO Membranes
TPO is short for thermoplastic polyolefin. These single-ply roofs were introduced to the roofing industry in 1991 and were meant to be an improved version of PVC and a rubber membrane called EPDM (ethylene propylene diene monomer). Although TPO was initially designed to be a superior alternative to PVC, each system has its pros and cons. 
The TPO roofing system includes a layer of synthetic membrane and a reinforcing scrim that gives it added stability. It's manufactured and sold in sheets, typically anywhere from 10-20 feet in width –with the wider material allowing for fewer seams.
The TPO installation process is similar to that of PVC. Once the substrate is prepared, and the roofing materials are cut, the material is affixed to the roof. As with the PVC installation process, seam welding allows the roofing system to expand and contract with the building.
In both the PVC and TPO installation process, the roofing job isn't complete until it has been thoroughly inspected.
The Attachment of TPO and PVC Roofing Materials
The installation process of both single-ply roof systems is very similar. However, there are some options for how TPO and PVC roof membranes are attached:
Mechanically Fastened:

In this process, the membrane is attached using a mechanical anchor set through a seam plate or batten bars. This is the most common type of attachment method.

Fully Adhered:

A single-ply membrane has fully adhered when glued to the substrate using an adhesive.

Self-Adhered:

Self-adhered membranes already have adhesive in place. This type of system installs fast – with little mess or odor.

Induction Heating:

An induction heat tool transmits a calibrated electrical impulse to the metal plate heating it to melt the backside of the roof membrane.
Benefits of PVC and TPO Roofing Systems
Both polyvinyl chloride (PVC) and thermoplastic polyolefin (TPO) offer similar benefits. Here are some reasons you might select one of the single-ply roofing membranes.
Flexibility: Both single-ply membranes conform to the shape and movement of the roof. The installation method allows the material to expand and contract with the building. Due to the addition of plasticizers in its formula, PVC tends to be more flexible and easier to install than TPO. However, these plasticizers tend to break down more quickly and increase the degradation rate. 
Chemically Resistant: PVC and TPO membranes are resistant to chemicals, grease, and oil – with PVC offering more chemical resistance. They also stand up to acid rain. 
Light-Colored: These white membranes are helpful in areas known for extreme heat as the highly reflective surface allows you to reduce your energy costs during the summer. Talk with your commercial roofing expert about cool roof initiatives, such as California Title 24.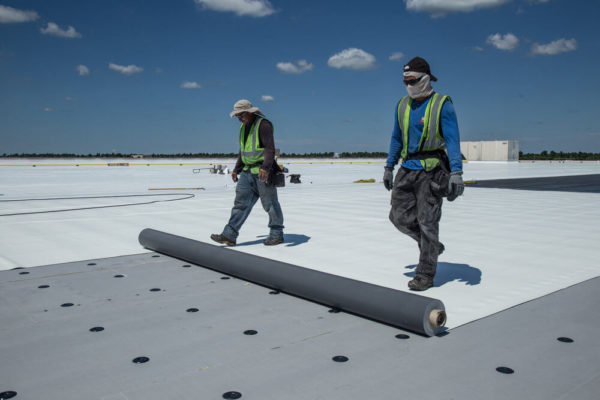 Odorless: Unlike roofing systems that utilize hot asphalt, PVC and TPO systems are odorless. This is beneficial when it comes to roofing medical facilities and multi-family dwellings. 
Lightweight: Another benefit of the single-ply membrane system is that it is lightweight and doesn't require additional structural support like other systems.
Fire Resistant: The older PVC membranes offer excellent fire resistance compared with TPO.
Weather Resistant: The watertight seams of these thermoplastic membranes offer excellent resistance against moisture. They are also used in areas that have dramatic weather changes. 
Durable: Both materials are durable and have a high tear and break strength, with TPO being the stronger of the two. 
Drawbacks of Single Ply Roofing Systems
Even though single-ply roofing systems have been used for decades, there are some drawbacks. Here are a few of which to be aware of:
Installing around roof penetrations (such as pipes, HVAC systems, chimneys, etc.) makes installation more complex and, thus, more costly.
Single-ply roofing system membranes can be punctured easier than other roofing systems. Dropped tools, falling branches, or foot traffic can damage the membrane, eventually leading to roof leaks. 
Although the seams are sealed, they are familiar places for leaks to develop. But, of course, wider sheets lead to fewer seams, which could reduce the likelihood of leaks. 
Is a Single Ply Roofing System the Right Choice for Your Commercial Buildings?
The roofing experts at AAA Roofing & Waterproofing, LLC. specialize in helping building owners choose a roofing system that would work best for their unique situation. AAA Roofing is one of the leading commercial roofing companies in Los Angeles and the western states, having installed over 150 million square feet of roof surface.
AAA Roofing has been in business for over 30 years – under the same ownership. The company specializes in new construction, existing building re-roofs, tenant improvement, maintenance, reroofing, and leak detection. Get in touch if you're ready to upgrade your single-ply roofing in San Jose, Riverside, Los Angeles, or nearby areas throughout California. We also have offices in Idaho and across the Western States. The AAA team has expert knowledge of all roof types, including single-ply roofing membranes (PVC, TPO & EPDM roof membranes), BUR, modified bitumen, and metal roofs. They also can assist with residential flat roofs. 
Key Takeaways: Single Ply Roofing Membranes
Both TPO and PVC are single-ply roofing systems. 
Both single-ply roofing systems have a similar installation process.
Single-ply systems are chemically resistant, reflective, and strong. In addition, they are fire-resistant and lightweight.
Single-ply membranes can be mechanically attached, fully adhered, self-adhered, or attached with induction heating.
PVC is the older single-ply system. It offers excellent fire resistance and is less expensive than TPO.
TPO is a more robust single-ply roofing material than PVC.